« May 2007 | Main | July 2007 »
June 30, 2007
Weird Al interviews Eminem
This is an old "interview" from AL-TV but it's still funny.
[ Watch. ]
Posted by Nathaniel at 08:13 PM | Comments (0)
Spoon-Slide Guitar
Hannes Coatzee from South Africa plays chords and slides with a spoon.
[ Watch. ]
Posted by Nathaniel at 08:11 PM | Comments (0)
June 21, 2007
Serious Rodent
Here's another video infecting the GISH (note: when I discovered there was no entry for the true meaning of GISH on wikipedia, I created an account and made my first wikipedia article. hooray!) (update: someone has already requested that my wikipedia article be deleted. The reason stated: "Wikipedia is not urbandictionary." Hogwash!).
People are calling the video in question "dramatic chipmunk," but it's not a chipmunk. Despite this, it's still the best five second clip I've ever seen.
[ Watch. ]
Posted by Nathaniel at 12:29 AM | Comments (0)
June 16, 2007
safe2pee.org
I was browsing around online looking for examples of mashups, a new concept emerging online that wikipedia describes as "a website or application that combines content from more than one source into an integrated experience." This particular one is a utility for finding public bathrooms in over 200 cities, powered by user-submitted locations, directions and "reviews" of bathrooms across all of the cities mapped directly on the site using google maps. Google even has a beta of a mashup editor out, mostly to promote use of the APIs it's released.
Anyway, here's the link to the bathroom finder.
[ Click. ]

Posted by Nathaniel at 10:37 PM | Comments (0)
June 14, 2007
New Civilization 4 Expansion Pack
I am quite a nerd, but I pride myself on maintaining a solid connection with reality. Even when something sucks me in, I keep perspective. Yet this system sort of breaks down where Civilization is concerned. I could play any of the iterations of that game (and have) to the physical limits of my body to go without sleep and food. And now Firaxis is releasing a new add-on to the latest version of this crack-on-a-disc called Beyond the Sword. The additions make Civ IV operate much more like the original civilization, with a medieval UN, old-school invisible spies and espionage available in the early game, and the old spaceship system is back -- that is, you can launch at any time during the construction process, and the one who reaches Alpha Centauri first wins.
There's even a scenario... IN SPAAAACE. My August is officially shot.
[ Click. ]
Posted by Ben at 12:09 AM | Comments (1)
June 12, 2007
Mickey Mouse attempts to off himself - And hilarity ensues!
Yes, it really ran in newspapers in October 1930 and yes, Walt Disney himself came up with this story idea, though he didn't execute it. A cool city slicker steals Minnie's heart away and Mickey tries to commit suicide in a number of (cough) gut-busting ways.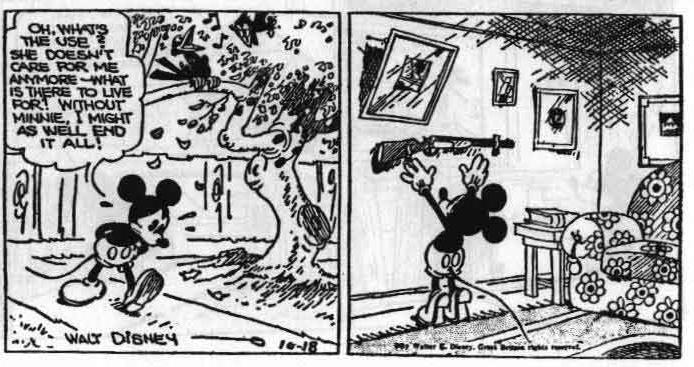 check out the complete story arc:
[ http://www.barnaclepress.com/comics/archives/comedy/mickey_mouse/ ]
Posted by Ben at 06:16 AM | Comments (1)
June 11, 2007
Fixed Gear Bike Spin
What is a fixed gear bike? Why would you want one? Why would one spin such a thing? Can it stop? Why are brains so delicious? What is the square root of a ham sandwich? Why does my friend smell like hot garbage?
None of these questions are answered in this video.
[ http://youtube.com/watch?v=R5mxMOGLiRw ]
Posted by Nathaniel at 10:27 PM | Comments (0)
June 10, 2007
The Money Masters
The Fed, central banking, printed money, the Rothschilds, Napoleon, the Bank of England, 1913, usury, war profiteering, this and that, evil evil evil, maybe. It may sound like a corny conspiracy theory but many of the facts seem to hold water. Thoughts? This documentary also has a website here. This was found on Communist Robot, an unusual site mainly about news on robotics, as well as many other things.
[ http://video.google.com/videoplay?docid=-515319560256183936&hl=en ]
Posted by Nathaniel at 03:17 PM | Comments (2)
June 09, 2007
Minstrels: The Lute & The Fury
The Untold Story. Eh.
[ http://vids.myspace.com/index.cfm?fuseaction=vids.individual&videoid=2029581520 ]
Posted by Nathaniel at 12:06 PM | Comments (0)
June 08, 2007
Bloggingheads.tv
Bloggingheads.tv is a very interesting site which hosts a long list of "Diavlogs." The basic premise is two bloggers with expertise in heady subjects talk to each other using webcams, and we get to listen. Topics range from politics and international affairs to science and philosophy, and maybe other stuff too. Here's a diavlog centered around one of my favorite topics in general: consciousness.
Consciousness Explained, kind of
with philosopher David Chalmers and journalist John Horgan
[ http://bloggingheads.tv/video.php?id=287 ]
Posted by Nathaniel at 09:56 PM | Comments (0)
June 07, 2007
Spiderman 3 - Product Placement
There was a lot more product placement in Spiderman 3 than most people realize. I watched it in theaters a few weeks ago and didn't notice even a fraction of the subliminal advertising that went into it. Don't worry though, the good folks over at Black20 have gone over the movie second by second with a fine-tooth comb, and compiled a video illustrating what we as viewers may have been taking for granted.
[ http://www.black20.com/virals/?s=91 ]
Posted by Nathaniel at 09:38 AM | Comments (0)
June 06, 2007
Soda Constructor
This is an awesome internet invention that's still alive and kicking after having been around for years. If you haven't seen it, it's well worth a look. Check out the Soda Zoo to see all kinds of strange two-dimensional animals, moving parts and all, or try making your own.
Soda Constructor
[ http://www.sodaplay.com/constructor/ ]
Posted by Nathaniel at 01:07 PM | Comments (0)
June 05, 2007
Fallout 3 Teaser
Bethesda Softworks released a teaser today for the highly anticipated third installment of the Fallout series, aptly titled Fallout 3. Apparently Bethesda bought the rights to the series after Vivendi bought Sierra and stuck the franchise in the closet of woe, right by the shoebox of despair.
Anyway I'm a big fan of Fallout 1 & 2 and this is good news to me, since Bethesda did great work on the Elder Scrolls games and whatever else they might be famous for. In a perfect world, Bethesda would just give the rights to Troika as a present, since the best of the old Fallout developers migrated over there. But that's pretty unlikely for now, as Troika has been dead for two years. As you can tell, I'm a huge computer game nerd.
The teaser is pretty weak. It's more of an advertisement than anything else, all CGI intro and no in-game anything. However, free eye candy. Release date is set for Fall 2008 (for now).
[ http://youtube.com/watch?v=wz5OgNSa0ck ]
Posted by Nathaniel at 11:11 PM | Comments (0)
June 04, 2007
Anagram Generator
I'm running out of juice to find cool stuff online.. I'm like Tinkerbell, you've got to keep clapping or believing in me or something. Here's an Anagram Generator to keep you busy, courtesy of your favorite website, Mocha Cutlet Overflight. This link is from Anu Garg's Wordsmith site. Garg is a man who dreams of a society that will "replace guns with dictionaries." Single tear rolling down my cheek.
Internet Anagram Server
[ http://wordsmith.org/anagram/ ]
Posted by Nathaniel at 11:23 PM | Comments (0)
June 03, 2007
Two Guys, One Guitar, One 90210 Theme
Stupid? Amazing? Stupid. Amazing.
Found through The Owl Blog, because Briana said I have to read it or die, or she will stick a knife in my eye. Rock journalists. Pfft.
[ http://www.youtube.com/watch?v=dXYHYbDxr9g ]
Posted by Nathaniel at 02:14 PM | Comments (0)
Gadget Gossip
My old friend from high school, the inimitable Hal Bergman, has a cool video blog project going on with Naomi Mercer and Dave Taylor called Gadget Gossip. It's still young but it has a lot of potential. Naomi does a great job as host and Hal's picked up some good editing skills from the great and venerable master Barney H. They already have 11 episodes up on the site and are aiming to keep churning them out once a week. Here's my favorite episode so far, in which they compare and contrast a couple of store-bought consumer breathalyzers at a bar or two.
Gadget Gossip
[ http://www.gadgetgossip.net/ ]
Posted by Nathaniel at 01:16 PM | Comments (0)
Sig Alert
Here's an indispensable site for any drivers or commuters living in the Los Angeles area, San Fransisco Bay area, in San Diego, or in Phoenix, Arizona. They have maps of all the major freeways in those areas with up-to-the-minute data on how fast cars are going all over the freeways. They even have reports on traffic accidents, hazards, even little blurbs like "Traffic Collision - Ambulance Responding." This thing is amazingly useful if you're battling traffic on a daily basis. The power is yours!
Sig Alert
[ http://www.sigalert.com/ ]
Posted by Nathaniel at 12:46 PM | Comments (0)
June 02, 2007
Buddha Machine
"The Buddha Machine is a little plastic box that plays music.

Specifically, FM3 constructed nine drones, varying from two seconds to 42 seconds, which repeat endlessly in the listener's ear until the "track" is switched to the next drone (or the two AA batteries run out).

The machine has its own built-in speaker, in case one would like to fill a room with the drones, but there is also a headphone jack for more personal meditative experiences. There's a switch on the side that allows for traversal of the tracks, and a DC jack (though an adapter is not included) for those who would like the Buddha Machine experience be truly endless.

In a way, it's like the cheapest pre-loaded IPod you'll ever be able to buy."

- excerpt from review at PopMatters.com
- excerpt from the FAQ at the Buddha Machine website
[ http://www.fm3buddhamachine.com/ ]
Posted by Nathaniel at 07:16 PM | Comments (0)
Google enters voyeurism market
Google Maps has a new feature that's freaking some people out.. it's called Street View, and the way they do it is by driving a car mounted with a 360 degree camera around town and creating interactive 360 panorama photos so you can go look around on the street for directions and such. Here's the problem, summed up in the iTWire article Google Maps becomes "Go Ogle Maps":
[...] Wow, that does sound cool, especially as more and more cities worldwide are added to the mix, and the content is mashed up in many different ways online. But almost immediately, people started looking at the photographs closely, and started noticing things that the people in the photos concerned might not have wanted published to the world.

Online reports of a man picking his nose, another scaling a wall, yet another at the entrance of a strip joint have been found and discussed, while the hunt is on to see what else the photos contain. The discovery some photos allow web surfers to see inside homes through open windows has also caused alarm.

Google says it has options for users who find photographic information about themselves or their properties that they would like removed, and in a statement reported by the Associated Press, Google spokeswoman Megan Quinn said "This imagery is no different from what any person can readily capture or see walking down the street. Imagery of this kind is available in a wide variety of formats for cities all around the world."

Google also claim the images were taken in a public place from a cameras specially mounted onto cars that travelled the streets, as well as buying similar imagery from another company.

While Google is offering to take down material people are unhappy about, it's a bit like the DMCA excuse – the rights holders need to find out they're being infringed before they can do anything about it, as Google takes all care but no responsibility. [More on this story here...]
So I can peruse the streets of the world buck nekkid from the comfort of my living room, but there's a price: if I leave the window open someone halfway across the world might be looking at a picture of me buck nekkid in my living room. Thanks, Google.
I'm not going to link to the feature because they get enough business as it is. If you really want to see it for yourself, just google it.
[ http://www.youtube.com/watch?v=91wuBqlny50 ]
Posted by Nathaniel at 03:45 PM | Comments (0)
Fly The Copter
On a lighter note... HELICOPTER GAME! I found this on Guy's myspace.
Fly The Copter
[ http://www.seethru.co.uk/zine/south_coast/helicopter_game.htm ]
Posted by Nathaniel at 01:20 PM | Comments (0)
Regulating the Monopoly on Death and Violence
A little more craziness than usual in the world today.. JFK airport bombing plot foiled, US Navy ship shelling a small Somali village, officially approved and controlled pre-G8 riot taking place.. just a few that stand out amid the everyday mess on Google News. I guess death and violence are OK as long as they're government-approved.
Protesters attack riot police at G8 summit
[...] "The police were attacked massively from the violent protesters," said Police spokesman Frank Scheulen. "They threw bottles, fire crackers, rocks and Molotov cocktails."

He estimated the number of violence-minded demonstrators at about 2,000. Police put the size of the demonstration at 25,000, while organisers said it was 80,000.
Demonstrator Peter Mueller had tears streaming from bloodshot eyes after the tear gas was released. "As long as the police were in the background it was OK, but as soon as one took a step closer, it went out of control," he said. [More on the story here...]
Four arrested in plot on JFK airport
Four people, including a former member of Guyana's parliament, have been arrested in connection with a plot against ground operations at New York's John F. Kennedy International Airport, U.S. officials said on Saturday.

Another one of the suspects was a former airport cargo worker at the airport. The four were charged with conspiring to attack the airport by planting explosives to blow up the airport's major jet fuel tanks and pipeline, the U.S. Justice Department said.

The plot was foiled well before it came to fruition and the FBI said there was no threat to the public from the plot. [More on the story here...]
US Navy Ships Fire on Northern Somalia Village
Officials in Somalia say U.S. naval warships have bombarded a remote coastal village where suspected Islamist insurgents had set up a base.

The attack happened Friday night when a Navy destroyer opened fire around the village of Bargal, located in northern Somalia's semi-autonomous region of Puntland. Officials say the extremists arrived in Bargal earlier this week, then fought with troops from the region.

A U.S. Department of Defense spokesman would not confirm or deny the report. He would only say the United States remains committed to reducing terrorist capabilities when it finds them. [More on the story here...]
Posted by Nathaniel at 11:11 AM | Comments (0)
June 01, 2007
Watson gets his Genome Sequence
Co-Discoverer Of DNA Presented With His Own Genome Sequence
James Watson, Nobel Laureate and co-discoverer with Francis Crick of the DNA double helix was presented this week with his own genome sequence.

Watson, who is also the father of the Human Genome project, is the first human to be given the data that surrounds his own personal genome sequence.

The project to unravel Watson's DNA took two months and cost 1 million US dollars. It was a joint effort between 454 Life Sciences, a US subsidiary of the Swiss pharmaceutical company Roche AG, based in Connecticut, and another American organization, the Baylor College of Medicine (BCM) Human Genome Sequencing Center (HGSC) in Houston, Texas.

Watson, who is 79, and Francis Crick, who died in 2004, won the Nobel Prize in 1962 for their discovery of the DNA double helix.
Cool. Futuristic. Read the rest here.
[ http://www.medicalnewstoday.com/healthnews.php?newsid=72842 ]
Posted by Nathaniel at 09:57 AM | Comments (0)
Cat Allergy & Cognitive Dissonance
Today I learned that I have an acute histamine reaction to glycoprotein Fel d 1, which is usually secreted by the sebaceous glands of the Felis catus species, and found most prominently on their skin and in their saliva. In other words, I am allergic to cats, which is sad because I was convinced I was the Cat Whisperer. The symptoms basically mirror those of asthma, and can be mild to severe. One of the possible side effects is sleeplessness, which is why I know all these things, because I couldn't sleep last night after my housemate's girlfriend moved her cat into our house and I started having difficulty breathing and sleeping, two things which are generally considered to be important to human health.
I also picked up a better understanding of the term cognitive dissonance after stumbling upon a review of Mistakes Were Made (But Not By Me) on the front page of the UCSC website (the author is a social psychologist and presumably a faculty member).
Um.. "booyah."
Posted by Nathaniel at 08:40 AM | Comments (0)