« Fixed Gear Bike Spin | Main | New Civilization 4 Expansion Pack »
June 12, 2007
Mickey Mouse attempts to off himself - And hilarity ensues!
Yes, it really ran in newspapers in October 1930 and yes, Walt Disney himself came up with this story idea, though he didn't execute it. A cool city slicker steals Minnie's heart away and Mickey tries to commit suicide in a number of (cough) gut-busting ways.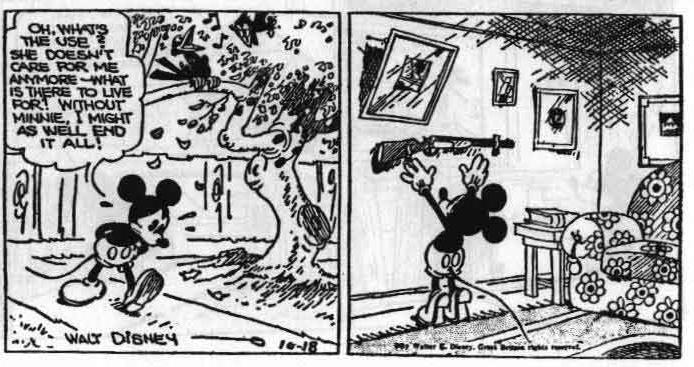 check out the complete story arc:
[ http://www.barnaclepress.com/comics/archives/comedy/mickey_mouse/ ]
Posted by Ben at June 12, 2007 06:16 AM
Comments
Yay! I guess even Mickey has his off days. There's even a moral at the end! Who knew heartbreak, despair and five suicide attempts could be so educational!
Posted by: Nathaniel at June 12, 2007 01:34 PM